YouTube is now the second largest search engine, with stunning statistics like 900 million unique visitors per month! Video marketing is growing in line with this trend, according to research by the Aberdeen Group, marketers using video in their B2B marketing strategy receive an average of 66% more leads and a 54% increase in brand awareness. Still not convinced? Then quickly read the following three reasons to use video marketing through Products4Engineers.
1. Show, don't tell
On Products4Engineers, products can be compared to each other on the basis of specifications, but these alone are not able to tell the whole story. With a good product video, the added value of your product becomes clearer and through clever use of images and sound you can really grab the viewer and perhaps even inspire them with new ideas. An image often says more than a thousand words, especially within B2B product marketing.

Take a look at the video of the Sandvik Coromant CoroMill 331, which shows step by step how the product should be used and what the possibilities are. The video seems a bit boring and long at first, but offers great added value for people who are actually interested in the CoroMill 331.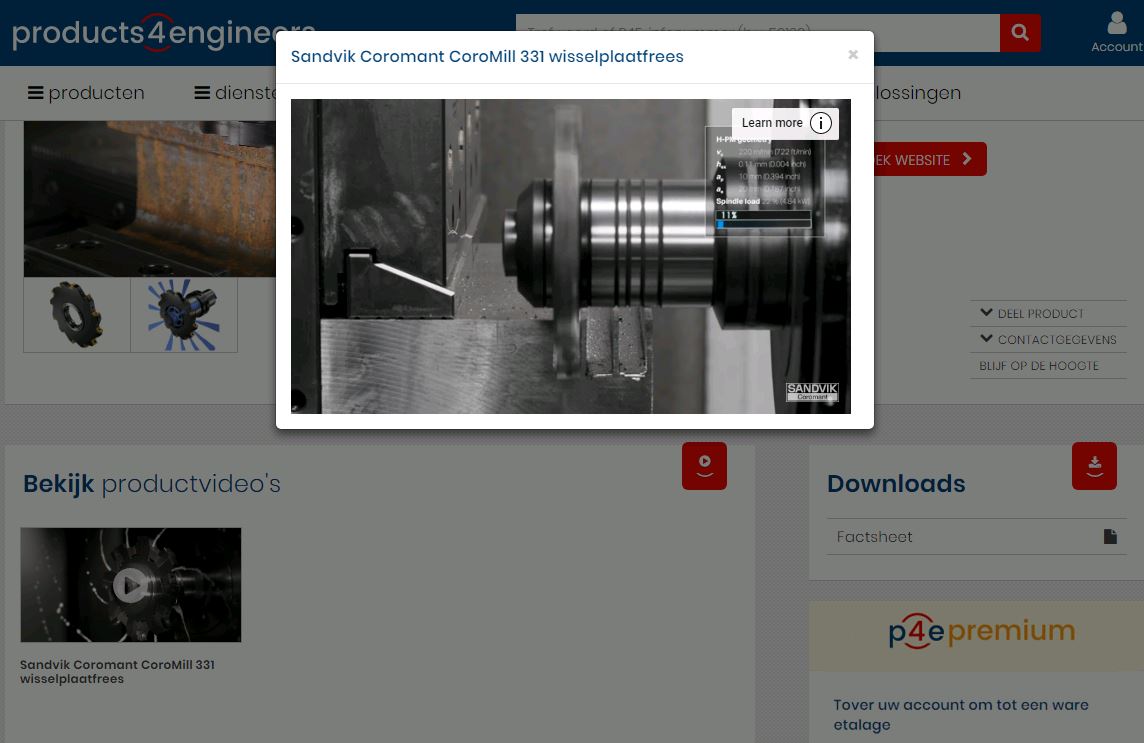 Product video added to the CoroMill 331 product page
2. Better informed customers
Every marketer wants customers who know what they want. Unfortunately, the reality within B2B marketing shows that this if often not the case. Many customers run into certain problems, but they don't know how to solve it and which problems or services can help them with it. With text alone, it is very difficult to convey how your product can solve customer problems, but video marketing can help enormously. Make sure that all videos about former projects and associated possibilities are on Products4Engineers, so that the visitors of your page understand better what purpose your products can be used for, and why they should become your customer! A good example of a quality video mix is Onkenhout & Onkenhout.


Product videos added to one Onkenhout's product pages
3. Visibility
Products4Engineers is a content platform, for which we are continuously searching for relevant information for our visitors, such as products, case studies and videos. More than 8,000 subscribers are kept up-to-date on new developments through channels such as email and social media. Videos play an important role in this, research even shows that 75% of customers see a clear link between viewing videos on social media and their purchasing decisions. And almost 80% indicate that video is one of the easiest ways to interact with a brand or company. So make sure your best videos are on Products4Engineers and give your brand awareness a boost!
---
Bonus: Engagement
Products with videos provide more engagement. On average, products with videos are viewed 30% more often and visitors stay 40% longer on the page than with products where no video has been added. Videos usually perform very well in the newsletter too, with about 15% to 25% of the total of clicks.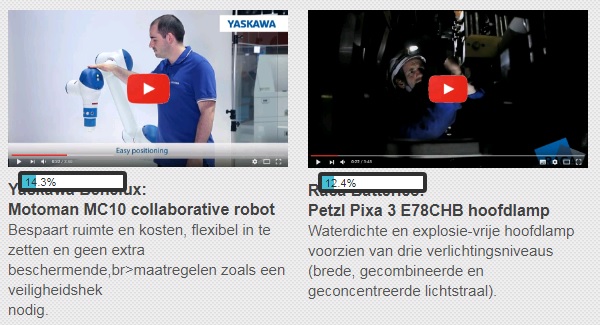 Clickmap of the Products4Engineers newsletter
Add your videos through your Products4Engineers account. Need help? Please contact Sjors Kloosterman.
---
Download file
Please enter your email address, your requested download will be sent to your inbox so you can save and use it any time!
Download the infosheet to learn how to add video's
p4e-infosheet-2018-premium-2.pdf
581 KB