Attracting attention with your content can be quite a challenge. The people in your target group are short on time, especially in B2B marketing, and see a lot of content passing by every day. In our previous article about content marketing we explained the importance of writing from your target group's point of view, but there's more! To give you a clearer picture of the characteristics of valuable and relevant content, we have selected three articles from www.gim-international.com. Here, we dive deeper into why they are examples of successful content.
Surveying in the Mining Sector
This article, written by content manager Wim van Wegen, was published in January 2017. Since then, it has generated 6,781 page views and has been shared 1,100 times on social media! The article zooms in on all mapping & surveying technologies that are used in the mining sector for the mapping of mines and (potential) mining areas. The story provides a clear overview of the geospatial solutions in the mining industry, including gathering and processing of the data. Data collection techniques such as Lidar and photogrammetry are discussed, as well as various methods for using those techniques.

Much of the success of this article is due to the fact that it meets a clear need among the target group. The mining sector is increasingly using geospatial solutions, but professionals in that industry are often not fully aware of all the possibilities that geomatics has to offer. With practical information such as applications and solutions, this article offers valuable and relevant information for our readers. In this article, Wim not only explains the techniques, but also shows the possibilities based on existing examples. With an average of almost 5 minutes spent on the page, this 'long read' of 2,200 words is clearly well received, and still shows a positive trend in organic traffic via Google more than a year after publication.
UAV Photogrammetry Software
This is another article that fulfils a clear need among the target group. Within the land surveying discipline, there has long been a growing interest in drones for mapping the environment, but professionals in this industry often lack sound knowledge about correct applications and necessities. This article attempts to answer the questions that geomatics professionals commonly encounter, such as 'What software is needed to process images that have been collected by drones?' and 'How can you ensure that the collected data yields a valuable product?'.

In contrast to the previous article, this one is an easily manageable 'quick read' at just 650 words. The content has a highly practical ('how to') character and, since its publication in November 2017, it has been read 1,600 times and shared 883 times.


The article is also very well received on LinkedIn
BIM: A New Model for Surveyors
This article, written by Ron Bisio, vice-president of Trimble's geomatics department, is a perfect example of 'earned media'. Building information modelling (BIM) is a fairly new discipline within land surveying, and Trimble saw a clear need among its target group for qualitative information about the application of BIM. The article therefore focuses on the development of BIM within the construction sector, and its spatial aspects. It explains how the collection of data – that is, the work of surveyors – is of fundamental importance for the growth of BIM. By gaining more knowledge about BIM, geomatics professionals are able to explore and respond properly to new opportunities that this discipline offers them.

This article is another good example of a more extensive long read (about 2,200 words) that provides information and meets the needs of the target group. This kind of content marketing pays off, because this feature provides insight into what Trimble has to offer without coming across as a promotional article. In fact, it is a high-quality article that gives many professionals a glimpse into the world of BIM. And that is reflected in the statistics too, with 3,772 page views, 619 shares and more than 100 extra page views, every month, via organic search results from Google and other search engines.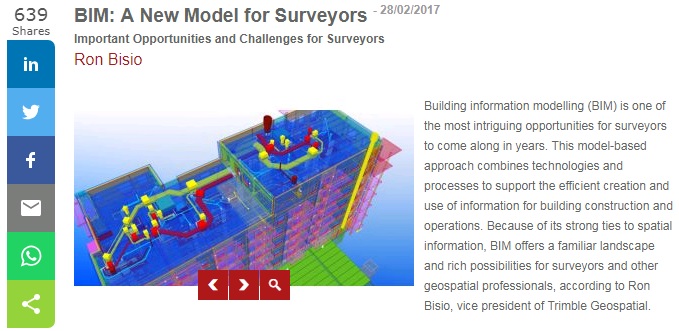 Takeaways
Make sure your content meets a clear need
Immerse yourself in your target group and align your content accordingly.
Keep it practical
Focus on information, applications and solutions that are relevant and valuable for the readers. Do not just explain, but also show (and use examples).
Pay attention to the number of words
Make sure the length of the article matches its goal
- Less is more: 500-1,000 words are often enough to deal with a specific topic and to provide readers with relevant and valuable information that makes them think.
- Long reads are certainly an option, as long as the content remains relevant. They are often used to explore a topic in depth.
Do you need help with creating articles, case studies or other content? Our team of marketing and content professionals can help you! Or find out why geospatial companies are focusing on delivering great content.