The geospatial industry is one that is full of opportunities and possibilities. In the blog titled 'Geospatial marketing is cool', we explain how to make a real difference in the geospatial industry through cool marketing campaigns. Innovations such as 3D city modelling, drones and virtual reality and the application of geomatics in fields such as humanitarian aid, archaeology and agriculture mean that it is very difficult to match the dynamism seen in the evolution of geomatics over recent years. This page shows a brief overview of the geospatial marketing landscape with the following topics:

1. Print marketing
2. Digital marketing
3. Event marketing
4. Partner marketing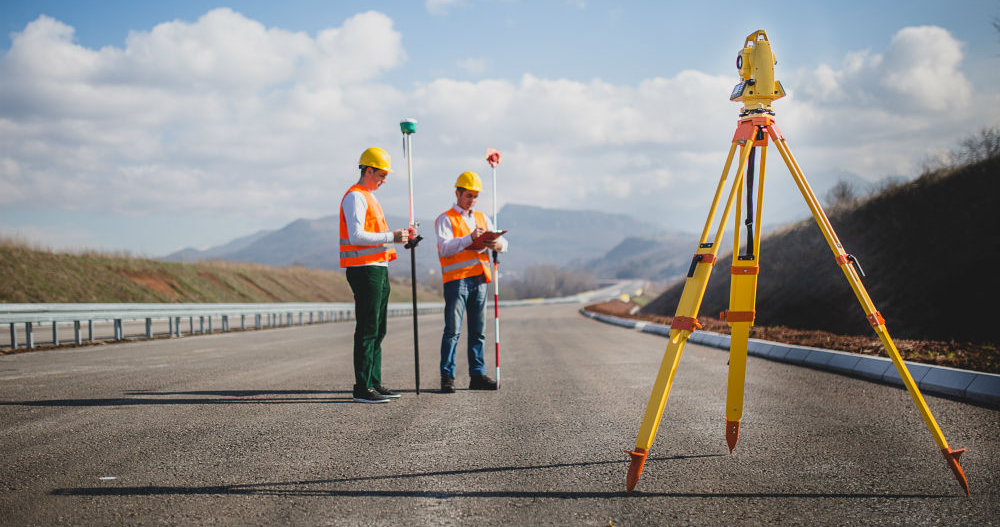 Print marketing
For years, print advertising has been a common form of marketing in the geospatial and hydrographic industries. And although a clear shift from print to digital is visible, advertising in print certainly remains something that shouldn't be underestimated. Printed magazines have always been strong ROI performers and print definitely isn't dead! Click here for five reasons to advertise in print. The list below shows the most frequently used advertising options in the geospatial market.
1. Cover
Most industry magazines do not sell their front cover, but sponsored back covers and inside covers are common advertising options.

2. Inside page ads
Practically all industry publications offer the opportunity to place advertisements on the pages inside their magazines, and the options are very diverse.
3. Inserts
To attract extra attention you can opt for materials that are inserted in a magazine. Commonly used formats are flyers, cards or a belly band.

4. Native content marketing
Broaden and expand your target audience through sponsored articles or case studies. Many magazines in the geospatial industry offer these options nowadays. And if you're not able to write articles yourself, then there are often many options for creating content.

5. Sponsored magazine
Do you want full editorial control? Then you should probably opt for a tailor-made magazine. The GIM International INSPIRE special is an excellent example of this.
---
Digital marketing
The digital geospatial market is evolving on a daily basis. Whereas ten years ago websites only had banners, today new advertising opportunities such as video marketing, advanced targeted marketing and content marketing are really starting to take flight. These new possibilities can also be used for various purposes, e.g. brand awareness, lead generation, customer education and more are all possible.

An overview of the digital advertising options:

1. Banners
Almost every website in the geospatial industry offers banners as an advertising option. Common formats are leaderboards, rectangles and full banners.

2. Advertorials
The advertorial is a familiar sight not only in newsletters, but also increasingly on homepages and category pages of websites.

3. Native content marketing
Broaden and expand your target audience through sponsored articles or case studies. Many magazines in the geospatial industry offer these options nowadays. And if you're not able to write articles yourself, then there are often many options for creating content.

4. Videos
Geospatial solutions can be used in countless applications that 'the outside world' might not immediately think of. The use of videos offers an excellent opportunity to show advanced techniques and projects in an easy-to-understand way.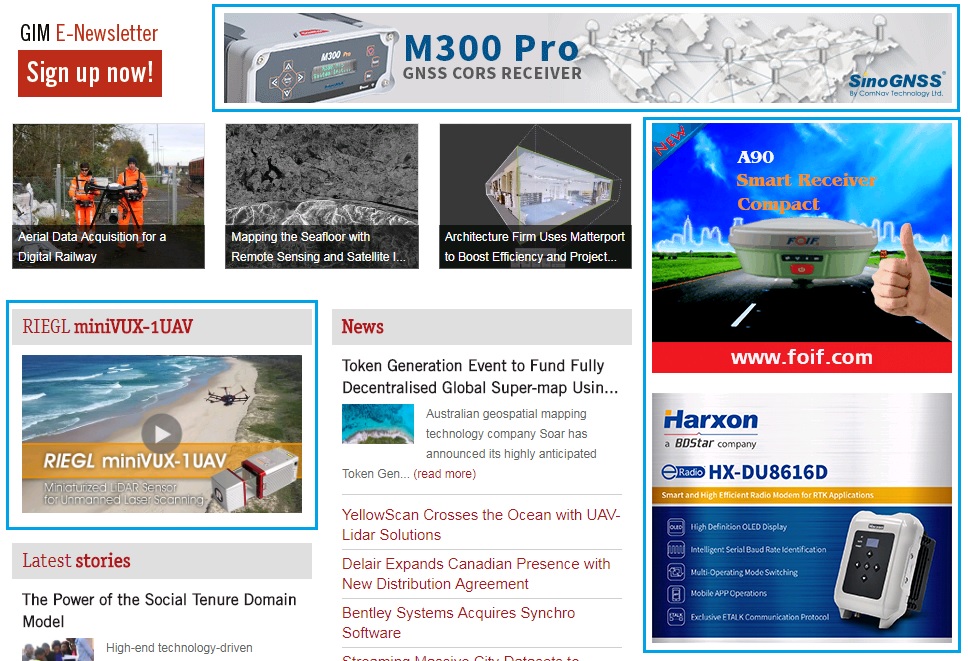 Screenshot of the GIM International homepage, including banners and videos

5. E-blasts
An excellent way to get your message straight into the inbox of people who are not in your database. Create your own newsletter or have one made!

6. Advanced targeted marketing
The geospatial industry is a niche market, but can still be easily divided into different interest groups. Advanced targeted marketing offers you the opportunity to address your message to a specific group of potential customers. Do you want to know more? View the infographic.
Event marketing
Personal contact and a healthy customer relationship are of great importance in B2B marketing. Events like trade fairs and conferences play a pivotal role in the geospatial market. Major trade fairs such as Intergeo and Oceanology International have for many years been important contact moments for companies in our industry, and you can use them in the following ways:

1. Sponsorship
Increase your brand awareness by connecting your name to an event through a sponsorship package.

2. Lectures and workshops
Giving a lecture or workshop at an exhibition or conference is an excellent way to highlight your expertise to potential customers.

3. Booth presence
Physical presence with a booth is a well-known and common way of event marketing. It is an ideal opportunity to interact with customers and prospects and to work on building mutual trust and creating goodwill.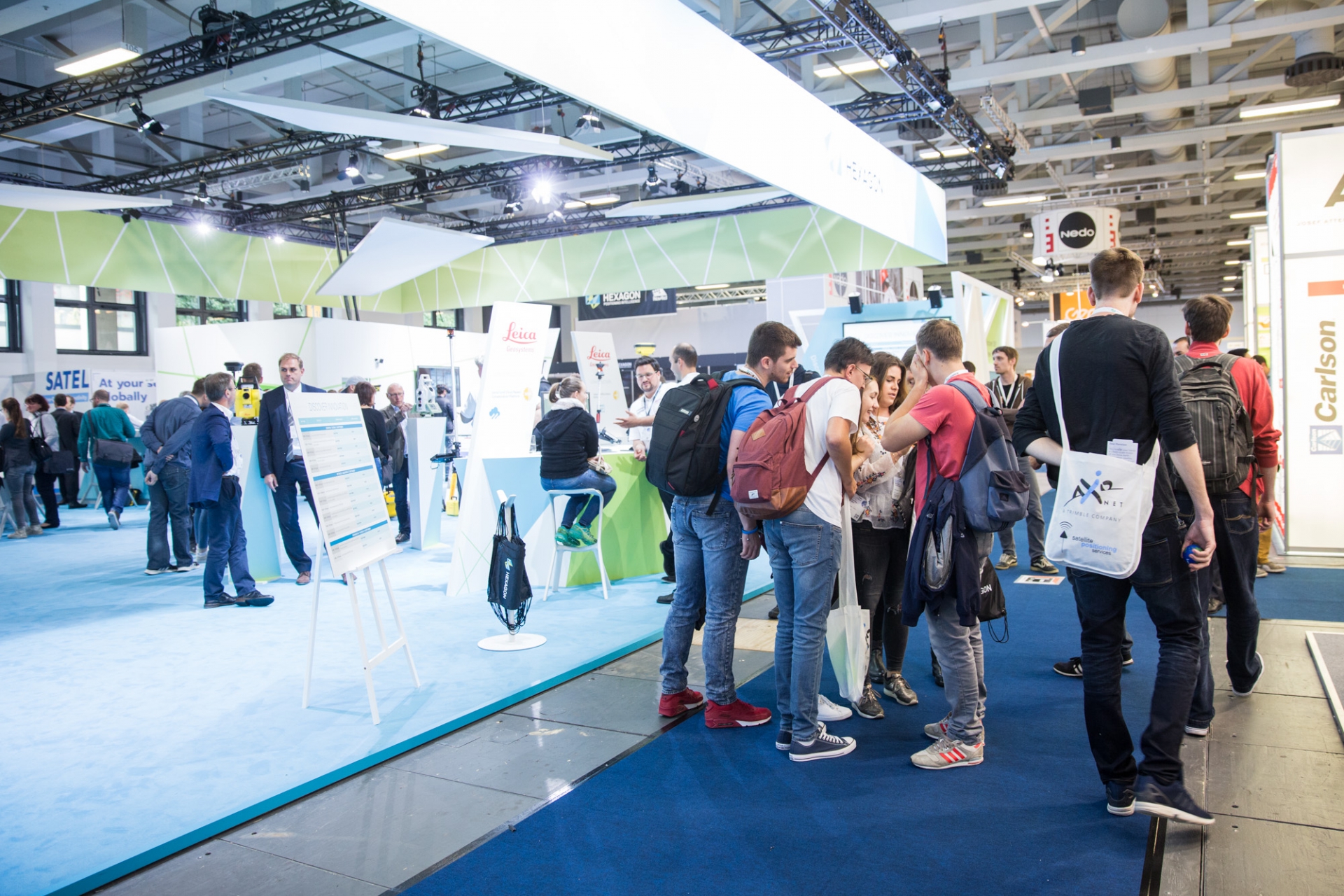 Impression of INTERGEO 2017

4. Industry media
Especially large events such as Intergeo create a real 'buzz' via industry media such as trade magazines and websites. Use these moments to reach your audience with targeted messages. It goes without saying that you have to think about your message very carefully, because you won't be the only one hoping to benefit from the marketing buzz.

Organise your own event
Besides the use of existing industry events, you can also choose to organise your own event. Companies such as Esri and Trimble have been doing this for years with their annual user conferences, where users from all over the world come together to discuss and learn about new technologies, products and projects – an excellent way to work on goals like commitment and customer loyalty. If your own events are still a step too far for your company, organising a webinar is a great way to start small with event marketing. Share your knowledge in an interactive way and become a thought leader in your niche!
Partner marketing
Exposure via earned media is one of the most effective types of attention, but unfortunately it is also one of the most difficult to achieve because you have to depend on third parties sharing your content. Partner marketing can help you with this. For example, think about arranging mutually beneficial deals in which you each do something for the other, or think about using elements from event marketing such as holding a lecture or workshop at a conference or gaining access to an event's network. Many events, institutes and universities have their own databases that you could use to send a mailing (although this is a bit more complex than it sounds due to increasingly strict privacy regulations). Last but not least, there are also many potential partners that have their own media publications, such as magazines and online blogs, that you could engage in a partner deal.
---